It's time for another "Pictures Worth More Than A Thousand Words" post where I feature some photos and other images that I've found on the Internet that articulate the sentiments of those of us who pay attention to nutrition and health. Some of these are funny as all get out while others are stone cold serious. Either way, hopefully you'll find these compelling and thought-provoking as you examine your own healthy lifestyle choices. Here's a list of all of my previous posts in this series: June 2011, August 2011, September 2011, October 2011, November 2011, December 2011, January 2012, March 2012 and April 2012. Now let's take a look at the ones I have for you in June 2012:
You know, they say fitness starts at home:

That's too cute! That's one photo that will keep people laughing for many years to come. Of course, even babies know that bacon is good even before it's made:
And it's not just babies whole make that decision about bacon:
We low-carbers know you DON'T have to choose between those two. You can have BOTH! This next one I think says it all about how the rest of us bacon-lovers think about this low-carb delicacy:
How true, how true! The 5-year old grandson of one of my readers from South Carolina wrote this short story using the words on his spelling list. Check it out:
In case you couldn't read it, it says: "I have pet named pretty. She is a pig. She is too big to fit under my bed. My Dad says soon there will be bacon for breakfast! Bwahahahahaha!
At least this bacon obsession is better than what the front cover of Tails magazine had to say about where Rachael Ray "finds inspiration" in the kitchen: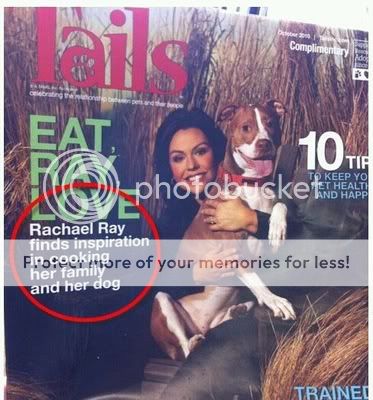 Oh the power of a well-placed comma! Something that I couldn't believe when I saw it is now showing up on supermarket shelves: OREO ULTIMATE ICING! That's right, no longer are they content with selling sugary, wheat-based cookies to consumers. Now they wanna give you a big tube of the white icing which will no doubt be consumed in one sitting by people watching television for hours on end:
UGH! This next statement really says it all about where we are regarding nutrition in the United States right now:
Heck, even "Frank & Ernest" are livin' la vida low-carb now:
It doesn't make it easy when we see marketing like this, though:
And even the local "Heart Walk" event serving root beer floats advertised on a flyer in a hospital in the Minneapolis, MN area where one of my readers works is one big FAILEO:
Even kitty kitty knows all those carbs will lead to one big CRASH:
Wouldn't it be great if we all ordered like this when we went out to eat at restaurants:
If there were truth in advertising about Frosted Flakes, then this would be how Kellogg's would need to market their product:
How true! Something tells me this father doesn't feed his precious babies that kind high-carbage crap for breakfast:
I saw this billboard in Jamaica when we were on an excursion during the Low-Carb Cruise last month advertising "Chicken Frankfurters":
Even the Jamaicans are fat-phobic! And perhaps if we had become more carbohydrate-conscious in our nutritional habits a hundred years ago that THIS would have never become a reality:
As much as I smile when eating my eggs, I don't think I've ever had them smile back at me:
This goes out to all of you (especially women) who go through the negative head demons who try to bring you down for not looking the part–be who you are unashamed and without excuses for how you look:
I LOVE THAT! You may need to print that one out and post it on your refrigerator. Make sure you hide the butter from your kitty cat who knows what's "nootrishus":
And finally, if you have a smartphone or tablet and aren't playing Words With Friends, then you're missing out on a fun Scrabble-like game that will give you hours of entertainment. Check out this sequence of letters that was recently in my tray that should bring a big smile to the face of my buddy Sean Croxton:
Get it?! "U GO JERF" or "You go JERF (just eat real food)." I thought it was cute. If you wanna play me in WWF, then my username is "livinlowcarbman." Hit me up on a game, but I'll warn you that I play very hard. That way if you beat me then you won fair and square. I don't lose often thanks to some high point scores like these two recent ones yielding 173 and 174 points each:
I LOVE playing this game and usually have 20 games going on simultaneously. Do you think you got what it takes to bring me down? BRING IT! And if you have any pictures that you think fit this "Pictures Worth More Than A Thousand Words" series, then e-mail the link or the photo itself to me at livinlowcarbman@charter.net. Who knows, your picture could show up in a future post here at my blog. THANKS for reading and keep spreading the message of healthy low-carb living!