I'm coming up on the 9-month update of my n=1 experiment testing the concept of "nutritional ketosis" (NK) this next week, but I decided to do something over the past week as an addendum to the regular testing I've been doing. If you've been following my progress on this NK journey since I started it in May 2012 (if you missed any of my monthly updates, check out Day 1-30, Day 31-60, Day 61-90, Day 91-120, Day 121-150, Day 151-180, Day 181-210 and Day 211-240), I've been testing my blood glucose and blood ketone levels in the morning and at night as well as my weight first thing when I wake up. But just out of curiosity I wanted to up my game a bit and test every hour on the waking hour for one week examining my weight, blood sugar and blood ketone levels.
I've noticed during my experiment that my ketone levels tend to be lower in the morning and higher at night, but I didn't know what was happening in the hours throughout the day and wanted to know. Plus, I've been wondering what was going on with my blood sugar after meals and exercise. And just for fun (because the fluctuations that happen throughout the day are pretty much irrelevant), I tested my body weight fully clothed every hour as well. My poor fingers took a pummeling with about 20 finger pricks a day on average (sometimes the lancet didn't go deep enough to produce enough blood with just one finger prick), but this information was totally worth the temporary pain. Let's take a look at what happened along with a few observations:
DAY 1 – SATURDAY, JANUARY 26, 2013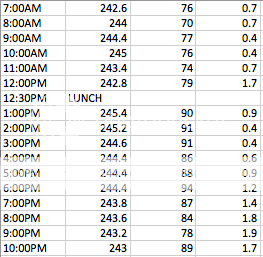 Fun first day of testing. My blood sugar ranged from 70-94 (AWESOME!) with the greatest rise predictably after eating. Even still, the increase in blood glucose wasn't that pronounced (predictable considering I'm eating very high-fat, moderate protein, low-carb). Blood ketones started to rise above 1.0 millimolar around 6:00PM–curiously, that's when it gets dark outside. Is there something that happens allowing for ketones to suddenly spike in the early evening? Higher melatonin production? I dunno, but I'd love to know what's going on with this.
DAY 2 – SUNDAY, JANUARY 27, 2013
Sunday morning gets me up a little earlier than normal to get ready for church which is why I didn't have any readings of my weight for four hours. This was also my first weight lifting day during the experiment and I did it in a fully fasted state of around 23 hours before having my lunch meal. Blood sugar ranged from 80-91 today which I couldn't have been more pleased with. Blood ketones were higher in the morning today, dipped down after lunch and then rose back up above the 1.0 millimolar mark at 6:00PM again. Great day!
DAY 3 – MONDAY, JANUARY 28, 2013
The start of the work week today saw very low blood ketone readings until the afternoon. I'd love to know why I dipped below that .5 blood ketone threshold for nutritional ketosis until late afternoon when I went above 2.0 millimolar after sundown. Very odd. Blood sugar ranged from 76-98. I'll take that! Weight did a big jump after lunch today. Not sure why, but it was a curious thing to observe today.
DAY 4 – TUESDAY, JANUARY 29, 2013
The middle of this experiment period saw my fasting blood sugar a little higher than normal at 90 today. Blood ketones were also on the lower end of the nutritional ketosis spectrum until after playing some frisbee golf with Christine. What resulted after having a little fun in the sun throwing some discs into a metal chain hole was probably the most curious findings of the week. You'll see my blood sugar jumped up to 115 right after this fun-filled exercise in the mid-afternoon. Blood ketones stayed above 1.0 millimolar for the rest of the day.
DAY 5 – WEDNESDAY, JANUARY 30, 2013
Outstanding blood sugar to start today staying in the upper 70's/lower 80's all morning. It was a weight lifting day again today and a funny thing happened today that hasn't happened in a while–there was a dramatic rise in blood ketones up to 4.2 millimolar! WOWSA! I don't know where that huge spike came from but it was cool. Funny thing is they dropped back down below 2.0 millimolar around 10:00PM. Did you notice what happened to my blood sugar during those five hours of blood ketones up above 3.0 millimolar? Yep, they were in the mid-to-upper 70's. Correlation with meaning? It was fun to watch!
DAY 6 – THURSDAY, JANUARY 31, 2013
You may have noticed that I've only had one meal per day most of the week. If it's comfortable to just eat once, then that's all I'm eating. That's totally cool with me as long as the hunger pangs stay away. But if I feel even a tinge of hunger coming on like I did today, then I'm eating some food. I got that inkling to eat in the morning today and then again in the early afternoon. It worked out pretty well today and ketones were not compromised. In fact, this was probably my best day for blood ketone production with readings over 1.0 millimolar after 1:30PM and over 2.0 millimolar after 5:30PM. KEWL! I missed my 7:30PM readings because I was in the middle of my LIVE recording of the "Ask The Low-Carb Experts" podcast. Blood sugar control today was amazing–72-88! Woot woot!
DAY 7 – FRIDAY, FEBRUARY 1, 2013
Final day of testing (my fingers rejoiced!) and blood sugar stability was awesome until after my supper meal. Yes, I ate twice again today because I had hunger hit me. Take a look at what happened to my ketones today. Now THAT'S what I'm talking about! I only had ONE reading below nutritional ketosis and that was .4. Steady ketone production throughout the day. If I could replicate this every single day, then I know I'd be in the sweet spot of where I need to be with NK. Although my blood sugar raised a bit in the evening into the 90's, overall the glucose control was superb.
So that's about it with this sidebar of my n=1 experiment testing nutritional ketosis. What did you think about this? Any thoughts about the numbers that you want to share. Feel free to share those in the comments section below. I'll be giving my Day 241-270 update next weekend and it will likely be abbreviated so I can get back to writing my book. But we'll keep chugging along documenting all of this information for you and sharing what happens. THANKS for reading!