I'm now officially halfway through my current n=1 experiment testing the concept of "nutritional ketosis" as defined by Dr. Jeff Volek and Dr. Stephen Phinney's in their 2012 book The Art and Science of Low Carbohydrate Performance. They wrote this shorter but content-rich book as a follow-up to their spectacular 2011 book that goes into great detail about why low-carb diets are optimal entitled The Art And Science of Low Carbohydrate Living. Although the Performance book was specifically written for athletes seeking to maximize the way they fuel their activity level by learning to become keto-adapted which then allows them to access stored body fat as their primary fuel source, the section in there on testing blood ketones as a means for attaining the proper level of nutritional ketosis was the most exciting thing I've seen in a long time for your average, everyday low-carbers to know exactly where they stand in their efforts to live a carbohydrate-restricted lifestyle for optimal weight and health benefits. In case you missed my first two updates, go check out Day 1-30 and Day 31-60 to read more about how this testing has gone so far.
Although I saw great success in 2004 losing 180 pounds and coming off of three prescription medications on the Atkins diet, the reality is I was 32 years old when that happened. Now that I'm 40 and all the associated metabolic and hormonal changes that come with that, it no doubt is requiring me to make appropriate adjustments to the way I live my low-carb life. I've talked about this for many years, but when you find what works for you it will sometimes become necessary to apply certain "tweaks" to the way you do things even if you've found success in the past doing something else. If we were all a bunch of robots, then you'd simply need to pull out the owner's manual and follow the one-size-fits-all instructions for fixing whatever system malfunction has occurred. Unfortunately, the human body is much more complex than that and requires a bit more caressing and personalized attention to respond the way we want it to.
Since beginning this n=1 experiment testing the concept of nutritional ketosis on myself starting on May 15, 2012, I have noticed a myriad of positive signs that have shown me that this is precisely the thing that I need to be doing for myself right now. Here is a list of 15 things I've noticed and experienced as a result of doing this for the past 90 days:
I've finally realized what true satiety feels like
Any remaining cravings for food have disappeared
Mental clarity and memory have never been better
Signs of inflammation in my body have vanished
I've become much more intuitive in my eating
I don't obsess about food every waking moment of the day
On a regular sleep schedule of 8 hours a night
Increased productivity in my work schedule
Robust energy even while in a double-digit hour fasted state
Improved mood and outward demeanor towards others
Ability to intermittent fast (IF) virtually at will
Signs of acne (which were bad!) are almost non-existent
Skin tags I've had my entire life are shriveling up
The color in my face is healthier than it was before
I finally feel hope again after years of frustration

That final point in the list above is probably the most important one to me because quite frankly I have been frustrated beyond belief that I was not seeing the kind of results in my weight management I was expecting over the past few years. While my cardiovascular health markers have remained pretty spectacular (namely HDL cholesterol, triglycerides, heart calcium score, LDL particle size, etc.), the weight slowly creeping back on and getting back up to 306.2 pounds just prior to this experiment was a major buzz kill for someone who lives and breathes this stuff on a daily basis. But as most of you know I'm not one who is willing to give up easily and I trudged forward with doing this latest n=1 confident that something somewhere along the line is finally gonna start working for me again. And the results thus far have been so staggering that I shifted from doing this for a mere 90 days to now pushing it to a full 180 days to see where it will take me. As I have been doing for the past three months, I'll be continuing to post my updates every 30 days so you can see how I'm progressing with my weight, blood ketones and blood sugar. I'll be sharing my latest readings with all of that in just a moment.

Many of you have asked me when I'm going to be posting the menus of what I'm eating during this n=1 experiment and I'm not quite ready to share them with you just yet. While I have seen some pretty good results in what I'm doing, I don't want to jump the gun and think that I've figured anything out yet. I'll continue to track my progress, journal exactly what I'm eating and chronicle it to reveal at the appropriate time. But right now is not that time. That said, I've been sharing on various podcasts lately about my favorite "Keto Eggs" recipe that I enjoy as part of my nutritional ketosis experiment. So I'm happy to provide this recipe to you today if you'd like to get a taste of what one of my regular meals is like. It's extremely easy to make and quite tasty if I do say so myself. Check out this meal I ate today in the middle of writing this post:
JIMMY MOORE'S KETO EGGS
4-5 pastured eggs
2-3 oz grass-fed butter and/or coconut oil
Sea salt
Parsley (or your favorite spice)
2 oz full-fat cheese (optional)
2 Tbs Trinity Hill Farms Sweet Chili Sauce
3 Tbs sour cream
1 whole avocado
Put a medium-sized skillet on medium heat and add the butter or coconut oil or both in the quantities you desire until melted. I generally use 2 oz of either the butter or the coconut oil or 1 oz of each when cooking this recipe. Crack open the number of eggs you desire directly into the pan and add the salt, parsley (or whatever other spice you desire) and cheese if desired. Country scrambled the eggs and other ingredients in the pan with a spatula until all the contents are fully mixed and cooked to your liking. Place eggs on a plate and add the stevia-sweetened chili sauce (LOVE this stuff!) along with 3 Tbs dollops of sour cream. Slice an avocado in half and scoop it on the side and you've just made what is arguably my new favorite meal!
ALTERNATE VARIATION: Cook up 3 slices of bacon or 3 sausage patties first and then use the leftover grease from your meat along with some butter and/or coconut oil to cook up 3 eggs with it. YUMMY!
It's very important for you to make sure you are getting the high-fat versions (no TURKEY bacon or sausage!) of these meats for maximum ketogenic effects. The brand of sausage I use contains 13g fat and 5g protein per patty–a spectacularly high amount of fat (117 of the 140 total calories) compared with the protein (just 20 calories). This is what you're looking for when looking at food choices if you desire to eat this way. And, no, I'm not so obsessed about getting all the fat and everything on my plate in my mouth. Just eat as much of it as you can and don't worry about leaving extra fat on your plate like I did with my eggs today: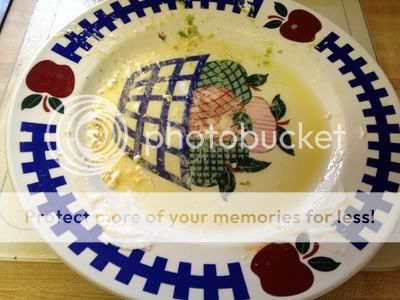 Just so you know, the 85/12/3 ratio of fat/protein/carbohydrates that I noted I'm eating in my last nutritional ketosis update is not a hard and fast rule. Honestly, I'm NOT closely monitoring every little minutia of what I'm doing and I'm sure the heck not counting my calories. Perhaps when this experiment is all said and done I'll go back and add up all of those numbers to analyze what's happening. But the bottom line right now is I'm eating pretty darn tasty food that keeps me satisfied completely without hunger with all of those fabulous tangible and intangible benefits that I listed above. Life is good being in nutritional ketosis!
Although I'm not sharing my menus with you today, I'm happy to help you figure out how to eat like this. I've read some blogs and forums talking about my experiment stating that I must be gorging myself on cream cheese and butter to get my fat levels that high. HA! That's too funny. Think about that sausage I described to you above. It contains 117 of the 140 calories per patty. That amounts to 84% of calories from fat which falls perfectly in line with the levels I'm seeking to achieve here. There are 9 calories per gram of fat and 4 calories per gram of protein and carbohydrate. Pull out your calculator and multiply the fat content of a food by 9 for total fat calories and then divide that number by the total calories to see what the percentage of fat calories are.
Here are a few more examples of the foods I'm consuming on my experiment and the percentage of fat calories:
Coconut oil: 100% of calories from fat
Butter: 99% of calories from fat
Cream cheese: 88% of calories from fat
Sour cream: 87% of calories from fat
Heavy cream: 96% of calories from fat
Cheddar cheese: 75% of calories from fat
Remember, get the FULL FAT versions of these foods to receive the ketogenic effects you want to see showing up in your blood ketone testing. Otherwise, you'll be sorely disappointed. It should go without saying at this point, but keeping carbohydrate intake low and protein intake moderated to the adequate amounts that are right for you along with a very high-fat intake is the key to making this happen. It's what I've been doing now for 90 days and plan on continuing to do over the next 90 days.
So how did I do in Day 61-90 with my numbers? Before we look at those, I want to share a few things that happened in this 30-day cycle for context. You'll recall I was put on antibiotics due to a urinary tract infection that I got in late June. I continued to take the antibiotics for an entire month (UGH!) which extended into the first 9 days of this update. Additionally, I was using some Caladryl (Benadryl and calamine lotion) for a few days at the beginning of this cycle on that pesky poison oak along my arms and legs picked up while visiting Tom Naughton in early July. I'm not sure these things really had any impact on this experiment, but I thought I'd share to give you a wider view of the results. Now, on to the numbers.
The graph below is of my blood ketones which you want to shoot for ranging between 0.5-3.0 as the ideal range for nutritional ketosis. There's no added benefit to hitting numbers above 3.0, but you definitely want to get above 0.5. I have been measuring every single day in a fasted state first thing in the morning when I wake up. Unlike urine ketone levels (which I'll share below) when ketone levels tend to be higher in the morning than at night, blood ketones are just the opposite–levels in the blood tend to be lowest in the morning which is why I want to measure them at that time. If the numbers are in a good range at that time of the day then I know I'm probably hitting my goals for the rest of the day. In Day 91-120, I'll be measuring both morning and evening blood ketone readings so you can see the difference from these two different points in the day. Now let's see what happened to my blood ketone levels in Day 61-90:
The only odd number in my blood ketones was the very first one coming it at 0.8. You'll recall I was still on vacation with my wife's family in Indiana at the time and the final day of my last update (Day 60) was when they went out to a Chinese buffet restaurant. I tried finding some real butter or other real fat sources to offset the protein I ate–not to be found. So it wasn't surprising that my blood ketones dipped below 1.0 and there were adverse effects on my blood sugar and weight, too. Oh well, it just meant that I needed to be all the more vigilant about my nutritional intake the rest of the month. And I did well for the most part as you can see again averaging over 2.0 for the cycle. Interestingly, you'll see my blood ketones start to tail off in the final four days while I was attending the 2012 Ancestral Health Symposium. Isn't it ironic that at this conference dedicated to healthy Paleo living that I actually ended up having a negative impact on my experiment? It wasn't just my blood ketones that were affected as you'll see when I share my weight loss and blood sugar results in a moment.
For Day 61-90, I continued to measure urine ketones to show what if any correlation there was between that and blood ketones. I wanted to see if there was ANY correlation between measuring urine ketones and blood ketones. Since urine ketone testing is much cheaper, it's great information to know. Using the numbers correlating with the color changes on the Ketostix package, I tested in the morning at the same time I tested blood ketones and received the following results:
Do you see any kind of correlation? Yeah, me neither. Needless to say, I'm not going to be reporting the results of my urine ketones for the remainder of this experiment. I suppose if you can't afford to test your blood ketones that urine ketone testing is an adequate proxy. But for accuracy purposes, blood ketones will be far superior and highly recommended even if you can only do it once a week. Assuming you are in nutritional ketosis because your urine ketone sticks turn pink or purple would be a mistake.
The big thing people are looking at with my n=1 of nutritional ketosis is weight loss. I heard from so many people at AHS12 who had seen me at either PaleoFX in March or on the Low-Carb Cruise in early May stating what a difference they could see in my body composition and color. After I heard it from a dozen different people, it finally sunk in just how well this has been working for me. And I gotta tell you I just feel so much better than I have in a very long time. My rings are considerably looser than they've been in a while and I'm wearing an old belt that hasn't fit in over a year. It's been nice fitting back into some shirts and pants again that have been too snug. This is all progress in the right direction and I'm pleased to see the progress happening as a result of being in nutritional ketosis. Here are the weight loss results from Day 61-90:
You'll notice my weight started at 282.8 after ending the last update at 279.8. That Chinese buffet experience put on three pounds which took three days to come back down again after returning home from vacation. You'll notice I had a steep weight loss in the first week after being back around my food again. That's an important part of doing this as I discovered while I was away last week in Cambridge, Massachusetts for four days during AHS12. I gained nearly four pounds at this Paleo nutritional health conference despite eating pretty darn low-carb. But the difference was I didn't have access to the extra fat that I need to be successful at nutritional ketosis.
Thankfully I'm home now for the remainder of this test, so I should be able to have much smoother sailing into early November when this n=1 is completed. Despite these challenges of travel, I still lost a total of 8.0 pounds in Day 61-90 for a cumulative weight loss total in the first 90 days of 31.4 pounds. I'm pleased with this progress and have no doubt I'm well on the right track to reaching a healthy weight again. Personally, I'd love to lose another 50 pounds to be in the 220-225 range again, but honestly I'm not as interested in a specific weight as much as I am looking, feeling and performing as well as I possibly can. If and when I reach this state, I'll feel like I've accomplished my goals with this experiment.
Finally, let's take a look at my fasting blood glucose test results for Day 61-90. I test simultaneously with blood ketones in the morning and in Day 91-120 I'll also be testing my blood sugar in the evening when I test blood ketones. I wonder what will happen to the blood sugar readings later in the day. We'll find out in the next update. Let's see what blood sugar looked like this time around:
Again, that dastardly Chinese buffet meal in Indiana hit me hard with a blood sugar reading of 111, but the rest of the month got remarkably better. You'll see towards the end of July and in early August I had blood sugar readings in the upper 70s/low 80s. I started taking a blood glucose stabilizing supplement called Glycosolve (made with berberine shown in this study to lower blood sugar levels) that has helped me manage my blood sugar. My results aren't perfectly in the 70s/80s all the time yet, but that's my goal. It'll be interesting to see if my higher blood sugar levels are only showing up in the morning (Dawn Phenomena maybe?) or if the nighttime testing will also be higher. We'll know next time I update.
It's been so much fun watching how engaged people have gotten with my nutritional ketosis testing and I'm happy to be sharing the results I'm seeing. Keep in mind this is simply an n=1 of Jimmy Moore and nothing else. This really isn't proving anything except what impact nutritional ketosis is having on me and me alone. If you're curious to see how doing this will work for you, then you need to do your own testing. Whether you start off testing your blood sugar, weight and urine ketones or if you wanna take the plunge and get a blood ketone meter (don't forget you can get a FREE NovaMax Plus ketone meter here), I encourage you to test, test, test! Empowering yourself with information about your health puts you light years ahead of most everyone else out there who has abdicated responsibility for their own health by letting their doctor tell them what to do on EVERYTHING regarding their health. Hopefully by now you realize that YOU are the only one who has a truly vested interest in being as healthy as you can possibly be. Take that bull by the horns and never stop being interested in becoming better and better on a daily basis. YOU ARE WORTH IT!
I'm grateful to everyone who has followed my nutritional ketosis n=1 experiment so far and I look forward to sharing my continued progress in Day 91-120 next month. I'd love to know what you think about my progress at the halfway point, so leave me your feedback in the comments section below. And if you're testing your blood ketones, let us know what impact being in nutritional ketosis is having on your weight and health. Plus, if you're testing your blood ketones and can't get your levels above 0.5, I'd love to hear from you too. Let's talk about it and see if we can help you get into nutritional ketosis. THANK YOU for reading!