It's that time again for me to go away for a couple of weeks during the summertime taking my annual voyage from Spartanburg, South Carolina up to Bedford, Indiana for a week to see Christine's family. Then on the way back we'll be stopping by to visit Tom Naughton for a week of disc golf and FAT HEAD fun! With all of the time I've invested in writing Cholesterol Clarity: What The HDL Is Wrong With My Numbers? this year, it's time for a bit of a break to recharge myself and get ready for an amazing ride these next few months after my book releases on August 27, 2013 in the United States and September 15, 2013 around the world. The publishers and my co-author Dr. Eric Westman have high hopes that this book is going to make a big splash in the world of health busting up all the conventional thinking regarding cholesterol, heart disease and nutrition. You have no idea how excited I am to get this in the hands of real people who unfortunately think they need to be on a statin medication for their 210 total cholesterol. UGH! It's time for the re-education to begin.
Since I'll be away from home for the next couple of weeks, I made sure to stock up on the most essential ingredient in my diet: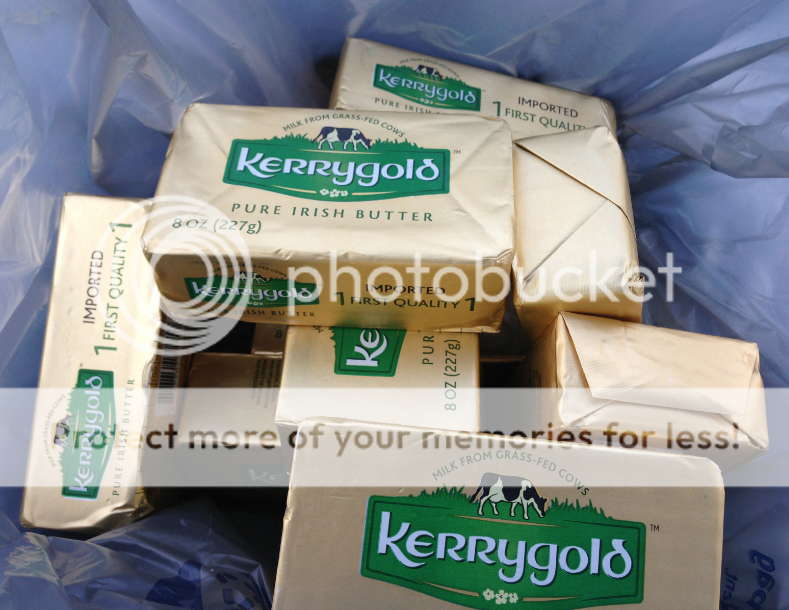 Kerrygold butter, baby! I do love me some grass-fed butter and will use it liberally with all my meals while I'm away. We'll be mixing in a little bit of business with pleasure while on this trip with a stop by Bloomington, Indiana this Saturday for Dana Carpender's annual Low-Carb Meet And Greet with 50 of our low-carb friends gathering around the grill in her backyard, a visit to Indianapolis on Sunday to see Shelby from the "Caveman Truck" (a Paleo-themed food truck) followed by my one-hour lecture on my one-year n=1 experiment of nutritional ketosis, and then on Sunday, July 28, 2013 I'll be giving the same talk in the Nashville, Tennessee area with my bud Tom Naughton from FAT HEAD joining me to meet the Paleo/low-carb peeps in that area. Full details on my lectures in Indy and Franklin can be found here. I hope to meet you if you live in the Indianapolis, Indiana and Nashville, Tennessee areas. RSVP to livinlowcarbman@charter.net if you can make it!
Since I'll be gone for a couple of weeks, I've got a whopping 65 new Paleo, low-carb and health blogs to share with you to keep you occupied while I'm away. If you like what you see at any of these blogs, then don't hesitate to leave them a comment on their blog, write an e-mail to the blog author and bookmark their blog to visit again soon. In case you missed any of my previous blog listings, I've got them all listed for you here, here, here, here, here, here, here, here, here, here, here, here, here, here, here, here, here, here, here, here, here, here, here, here, here, here, here, here, here, here, here, here, here, here, here, here, here, here, here, here, here, here, here, here, here, here, here, here, here, here, here, here and here.
Here are 65 new Paleo, low-carb and health blogs for July 2013:
1. LET FAT BE THY MEDICINE
2. CAVEMAN KETO
3. LOW-CARB SCAMS
4. FRETION'S CORNER
5. MENTALTOUGHNESSGUY
6. N = ONE MORE
7. THOUGHTS OF AN EVOLUTIONARY BIOLOGIST
8. LCHF…WHAT?
9. FIT SCRIBBLER
10. THE BLOOD SUGAR WHISPERER
11. THE NRG TRIBE
12. LIVE WILD
13. DOC'S OPINION
14. AND WE THANK HIM FOR OUR FOOD
15. HEALTH-BENT
16. BISCUITS AND EXCUSES
17. HAIRLESSMARY
18. KAT'S PRIMAL JOURNEY
19. FISH & FORAGE
20. THE CAVEGIRL DIET
21. PALEO BRO
22. THE MEAL MATTERS MOST
23. MS. MUSCLES FITNESS BLOG
24. BEYOND BLACK & WHITE
25. DR. NICK CAMPOS
26. CUT THE WHEAT, DITCH THE SUGAR
27. JASMINE'S VISION
28. LOW CARB DFW
29. HAWAIIAN PALEO PIRATE
30. GOING PALEO UK
31. FAT KID GOES PALEO
32. PATH TO HEALTH
33. TUIT NUTRITION
34. PALEO AMORE
35. MODERN PRIMAL EXCHANGE
36. RUN MORTON RUN
37. EQUALLY YOLKED
38. THE AUSTRALIAN PARADOX: A CRITICAL ANALYSIS
39. LOW CARB ROP
40. AL THE GAL RUNS
41. AU NATURALE NUTRITION
42. DR. KELLYANN LIVING PALEO & LOVING IT
43. MADISONPALEO
44. SUPER HUMAN
45. FIGURE OUT FOOD
46. MONAMIFOOD
47. GLUTENFREE GAL
48. HORFILMANIA'S HOPE
49. CREATING YOU WITH JULES
50. THE REBOOTED BODY
51. PALEO CUPBOARD
52. EATING WELL OUT
53. EAT. RUN. REHABILITATE.
54. PALEO SIMPLIFIED
55. FIX YOUR DIGESTION
56. PRIMAL PERKS
57. CAVE GIRL CULTURE
58. MAMA YA YA
59. PALEO NINJAS
60. REAL FANCY FOOD
61. CAVEMOM LIFESTYLE
62. THE BETTER BEING
63. BE UP & DOING
64. EAT TO LOSE (Portuguese)
65. BEYOND PALEO (Hebrew)
If you or someone you know has a low-carb, Paleo or health blog or web site that you'd like to see featured in a future blog post here at "Livin' La Vida Low-Carb," then I'd love to know about it. E-mail me the name of the blog and the URL to livinlowcarbman@charter.net so I can add it to my next big blog update. If you've been successful in your weight and health goals by eating a healthy Paleo or low-carb diet, then you should DEFINITELY consider blogging–the more voices we have out there talking about this stuff, the better! I'll be back in August refreshed and ready to take on the madness that is sure to happen in the coming months.